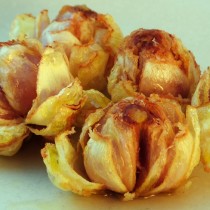 The bulb of lampascione is cultivated all over Puglia. These bulbs are famous all over the world for their size, their genuine and strong taste, their nourishing and even therapeutic properties. There are many ways to prepare them: in the oven, with oil and lemon, with eggs, golden and fried, over charcoal, in pickle, soused, sautéed with garlic and parsley. The...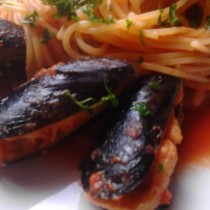 Ingredients 1 kg of mussels extra virgin olive oil garlic tomato sauce (1 liter) 2/3 eggs parsley 100 g of cheese (or Parmesan) salt Preparation Clean the mussels. Open the mussels in a pan with lid retaining the liquid that the mussels release. In a saucepan, saute a clove of garlic, add the tomato puree and cook for a few minutes. In a bowl mix the beaten eggs...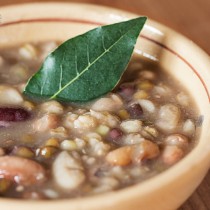 Serves 2 100 g fresh fava beans 100 g fresh beans 100 g fresh grass peas 100 g fresh peas 1 onion 3 bay leaves 3 juniper berries evo oil pepper salt Clean and wash the other legumes. In a saucepan fry the chopped onion in the oil, then add the legumes and cook for 3-4 minutes. Add lukewarm water (or broth), the bay leaves, pepper and salt, and continue cooking for...
Serves 4 320-350 g fresh capunti 2 large bunches of arugula (preferably wild rocket) 4 anchovies extra virgin olive oil pepper or chili a dozen of cherry tomatoes Clean the rocket removing the stems from each leaf, wash it well and let it drip into a colander. Bring to a boil a pot of water, and dip the rocket before and after 5 minutes the capunti. Meanwhile, put...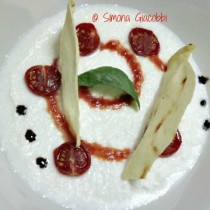 Serves 2 1 burrata 10 cherry tomatoes icing sugar basil leaves 1 garlic clove tomato sauce Sardinian carasau bread evo oil Arrange the tomatoes on a baking tray with basil, garlic and sprinkle with icing sugar to remove the acidity. Bake for 10 minutes at 180C. In the meantime, put the burrata in the mixer. If necessary add in the mixer a bit of its water to make...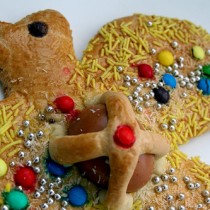 The "scarcella" is the traditional Apulian Easter dessert. It's not as fluffy as a cake, nor is it as firm as a cookie. It's a mix of flour, eggs and sugar wrapped up in a soft dough that you can mold into the shape you desire. Popular forms include the egg or the dove, typical symbols of Easter. Ingredients (serves 6-8) 500 g flour 5 eggs, 3 of which...