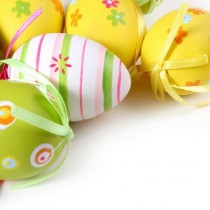 Puglia Mon Amour wishes you a Happy Easter with this typical menu that belongs to the real Apulian tradition. FIRST COURSE: Baked pasta Click here for the recipe SECOND COURSE Roast lamb with potatoes Click here for the recipe or Lamb 'a cutturiello' Click here for the recipe You can pair the lamb with li puddhricasci Click here for the recipe Benedetto (blessed) This...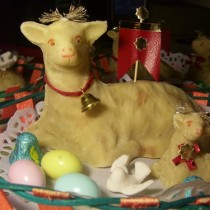 Chocolate eggs and colomba cakes are not the only sweets on Apulian tables on Easter lunch. Almond paste lamb is a traditional dessert born at least in the '800s. Salento bakeries work very well with almond paste all year around, but during Easter time they create true edible works of art. And some try to make this dessert at home. Let's see how to make it. Ingredients For...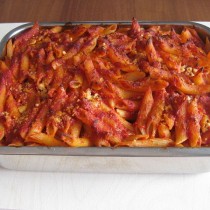 Ingredienti (serves 8) For the meatballs: 500 g ground beef 2 eggs 100 g breadcrumbs 100 g pecorino cheese, grated salt oil For the tomato sauce: 1 onion 100 ml evo oil 3 bottle of tomato sauce 800 g of can tomatoes 1/2 glass of dry white wine 500 gr beef, cut into pieces 1,2 kg pasta (penne, maccheroni or rigatoni) 500 g mozzarella cheese 200 g mortadella slices 200...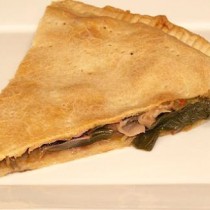 The onion calzone is a traditional dish from Puglia made with spring onions ('sponsali' in Apulian dialect or 'cipollotto' in Italian) and shortcrust pastry ('pasta frolla'). Some people also make it with pizza dough. Ingredients For the shortcrust pastry: 600 g all purpose flour 250 g water 100 g evo oil 15 g salt a pinch of brewer's yeast For the...
Serves 2 150-160 g of spaghetti mussels already cleaned parsley, chopped 1 garlic clove extra virgin olive oil q.b. 10-15 cherry tomatoes salt fresh chili (optional) Bring water to a boil, add salt and add the pasta. Meanwhile, sauté in a large pan 1 tablespoon of olive oil, garlic and chopped parsley and, if you like, a fresh chili cut into small pieces. Add the...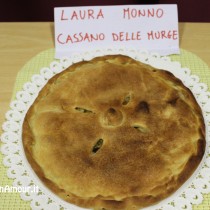 After winning the tiella and focaccia barese competitions in Bari, Laura Monno, from Cassano delle Murge, also won the 2014 edition of the Disfida dei Calzoni di Cipolla (onion calzone) that was held in Capurso. She reveals all the secrets of her recipe here. "This time there was no obligation to follow the tradition: a 'calzone' where the onion...