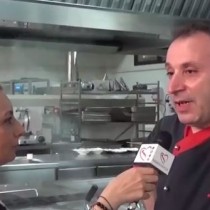 Apulian chef Vincenzo Elia from Mesagne, in the province of Brindisi, will be at the EXPO 2015 on August 1-31. Chef Elia uses a lot of Slow Food ingredients in his dishes. In Milan he will prepare a special fish soup (the "Boccaccio"), handmade stuffed pasta and a dessert made with Toritto almonds. ...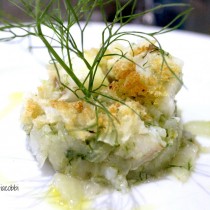 U' racanat, fennel and cod Serves 4 4 fennels 200 g of salt cod 200 gr durum wheat bread stale 100 g of extra virgin olive oil 100 g pecorino cheese, grated 2 cloves of garlic, parsley q.b. Preparation Wash the fennel and soak in salted water. Separately prepare a stuffing with cod, bread, parsley, garlic, pecorino cheese and add oil. Open the fennel and fill with...
The potato pizza is a recipe from Apulian cuisine. In the other regions it is known as potato gateau. It is prepared with a mixture of simple ingredients such as potatoes, grated cheese, mozzarella cheese (or smoked cheese) and prosciutto or mortadella. It can be served hot, warm or cold as the appetizer, or side dish Ingredients 1,2 kg potatoes 100 g butter salt...